I will preface this list by saying there is a lot of beauty in here. A lot. I can't help it. I'm a beauty product feind. I blame my mother who always told me I needed lipstick. I created a career out of it in many ways. Throughout college I slung mascara on many a set of lashes to make ends meet. Girl's gotta do what a girl's gotta do.
Regardless, now I have incredible taste and a plethora of cosmetic info that will do me no good whatsoever. I will dump some of that insight here.
I have mentioned I am very obsessive about my hair. It's a thing. Someone asked me the color the other day. I am sure it is something like "super blonde" or "mega super ultra blonde". What I do know is that it takes some upkeep. I love Purelogy's Perfect 4 Platinum Miracle Filller. This stuff is incredible. This stuff ahs a bit of a cult following amoung blondes but I know a lot of other friends that aren't blonde use it as well. It's an incredible leave-in.
http://www.pureology.com/systems/perfect-4-platinum/miraclefiller
Another product I love to pieces is MAC lipstick. There are a lot of great lipsticks out there but MAC has an amazing  Back to Mac program. It works like this, bring in six used packages and they will give you a free lipstick. No catch. They also recycle the empties. It's win/win. One of my most-reached-for colors is Chatterbox…fitting, huh?
https://www.maccosmetics.com/giving_back/back_to_mac.tmpl
I am pretty low key about a lot of beauty items. I mean, I love makeup but don't wear it all the time. I do wear eyeshawdow and wouldn't even consider wearing it without Urban Decay Primer Potion. It's become that step that is 100% necessary. Without it, I'll just pass all together. Mainly because this sets my liner and shadow. Without it my eye makeup is non-exsistent an hour later. Why even bother?
http://www.urbandecay.com/eyeshadow-primer-potion/296.html
Ok, this one is tough. I am no longer near a Lush store and this place has stupid high shipping costs but I love this stuff SOOOOO much. I am so sensitive and Angels on Bare Skin just works well. I get itchy and the lavender in this is so calming. It's incredible.
http://www.lushusa.com/Angels-on-Bare-Skin/9999906953,en_US,pd.html
Lastly, I am obsessed with Bath and Body Works Pink Chiffon. It's gotten out of hand. I go there when the buy three get three is going on and I try to find new ones. I REALLY try but I always end up just returning to my sweet, sweet Pink Chiffon. If they discontinue it, I will cry. Fortunately, the store will most likely contact me if this were to happen. They know this would ultimately crush my spirit and they are good people.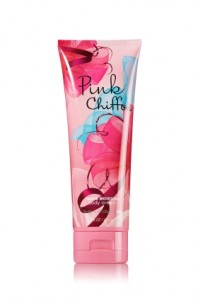 http://www.bathandbodyworks.com/family/index.jsp?categoryId=12573739
So that's the short list. I will most likey do this often because I am a nut for products. I'll probably leave the office singing "I feel pretty! I feel pretty!" in my house shoes with all this makeup talk.