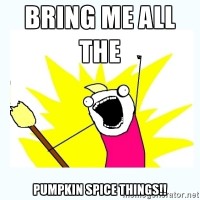 Kramer and I talked about the Fall pumpkin spice items hitting stores soon this morning on the Kramer and Amy Show.I feel like it's my job to keep a master list of the pumpkin spice things I hear coming out.
We all need to work together. I'd hate to miss out on something pumpkin.
I'll update as I get more! I can't believe it's almost fall! Where did the summer go?