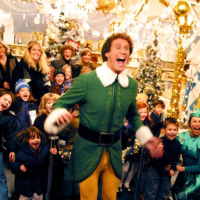 It's no surprise I am ready to go because it's FINALLY ok for me to start celebrating Christmas. It's the most wonderful time of the year and heaven forbid you start getting in the swing of things even a wee bit early! BUT IT'S FINALLY TIME!!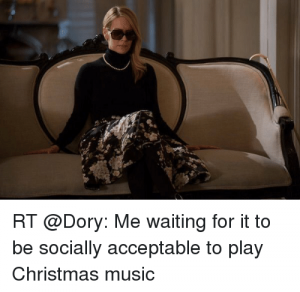 But it's time and I have an early Christmas present for you! Den of Geek dropped a little holiday magic and I am happy to share.
IT'S A LIST OF ALL THE CHRISTMAS SHOWS PLAYING IN 2016!! I know. I know. I'm a real baller. Merry Christmas!
Date
Movie
Channel

Wednesday, November 30

Christmas in Rockerfeller Center (8:00 pm)

NBC

Wednesday, November 30

Classic

TV

Christmas – Action Edition (8:00 pm)

getTV

Thursday, December 1

Holiday Engagement (6:00 am)

Hallmark

Thursday, December 1

A Boyfriend For Christmas (8:00 am)

Hallmark

Thursday, December 1

Willy Wonka & The

Chocolate

Factory (3:30 pm)

Freeform

Thursday, December 1

A Princess For Christmas (4:00 pm)

Hallmark

Thursday, December 1

The Year Without A

Santa Claus

(6:00 pm)

Freeform

Thursday, December 1

National Lampoon's Christmas Vacation (7:05 pm)

Freeform

Thursday, December 1

A Charlie Brown Christmas (8:00 pm)

ABC

Thursday, December 1

Bing Crosby and the

Sounds

of Christmas (8:00 pm)

getTV

Thursday, December 1

It Nearly Wasn't Christmas (11:15 pm)

getTV

Thursday, December 1

The Great American Baking

Show

(9:00 pm)

ABC

Thursday, December 1

The Santa Clause (9:15 pm)

Freeform

Thursday, December 1

The Nightmare Before

Christmas

(11:20 pm)

Freeform

Friday, December 2

Mr. Neighbor's House (12:00am)

Adult Swim

Friday, December 2

Jack Frost, 1979 version (11:00 am)

Freeform

Friday, December 2

The Polar Express (9:20 pm)

Freeform

Friday, December 2

Friday, December 2

I Love Lucy Christmas Special (8:00 pm)

Once Upon a Christmas (8:00 pm)

CBS

getTV

Friday, December 2

Twice Upon a Christmas (10:00 pm)

getTV

Friday, December 2

Charlie and the

Chocolate

Factory (11:25 pm)

Freeform

Saturday, December 3

Mickey's Once Upon A

Christmas

(7:00 am)

Freeform

Saturday, December 3

Mickey's Twice Upon A

Christmas

(8:30 am)

Freeform

Saturday, December 3

Richie Rich's Christmas Wish (10:00 am)

Freeform

Saturday, December 3

Disney's A Christmas Carol (12:00 pm)

Freeform

Saturday, December 3

Classic

TV

Christmas – Western Edition (7:00 pm)
getTV

Saturday, December 3

Elf (8:50 pm)

Freeform

Saturday, December 3

The Holiday (10:55 pm)

Freeform

Sunday, December 4

'Twas the Night Before Christmas (7:00 am)

Freeform

Sunday, December 4

Nestor, the Long-Earned Christmas Donkey (7:30 am)

Freeform

Sunday, December 4

Rudolph & Frosty's

Christmas

In July (10:05 am)

Freeform

Sunday, December 4

I'll Be Home for Christmas (12:10 pm)

Freeform

Sunday, December 4

A Song For the Season (8:00 pm)

getTV

Sunday, December 4

Perry Como's Early American

Christmas

(10:00 pm)

getTV

Monday, December 5

Jingle All The Way (5:00 pm)

Freeform

Monday, December 5

The Great

Christmas

Light Fight (8:00 pm)

ABC

Monday, December 5

Cher: Christmas

Episode

w/ Redd Fox (8:00 pm)

getTV

Monday, December 5

Scrooged (9:00 pm)

Freeform

Monday, December 5

Victoria's Secret

Fashion

Show (10:00 pm)

CBS

Tuesday, December 6

Snowglobe (12:00 am)

Freeform

Tuesday, December 6

The Bill Engvall Show (8:30 pm)

getTV

Tuesday, December 6

The Three Kings (11:00 pm)

getTV

Wednesday, December 7

Karen Kingsbury's The Bridge (9:00 am)

Hallmark

Wednesday, December 7

Hairspray Live (8:00 pm)

NBC

Thursday, December 8

12 Dates of Christmas (12:00 am)

Freeform

Thursday, December 8

Holiday Joy (3:00 pm)

Freeform

Thursday, December 8

Deck The Halls (5:00 pm)

Freeform

Thursday, December 8

Shrek the Halls (8:30 pm)

ABC

Thursday, December 8

Father Knows Best: Home For

Christmas

(9:00 pm)

getTV

Thursday, December 8

The Christmas Stallion (10:50 pm)

getTV

Friday, December 9

Joe Pera Helps You Find The

Perfect

Christmas Tree (12:00 am)

Adult Swim

Friday, December 9

Holiday in Handcuff (12:00 am)

Freeform

Friday, December 9

Frosty's Winter Wonderland (11:00 am)

Freeform

Friday, December 9

Home Alone 3 (1:30 pm)

Freeform

Friday, December 9

Santa

Buddies: The Legend of Santa Paws (3:35 pm)

Freeform

Friday, December 9

The Search for Santa Paws (5:40 pm)

Freeform

Friday, December 9

Albert (7:00 pm)

Nickelodeon

Friday, December 9

Santa Paws 2: The Santa Pups (7:45 pm)

Freeform

Friday, December 9

The Kid Who Loved Christmas (8:00 pm)

getTV

Friday, December 9

Snow Buddies (9:50 pm)

Freeform

Saturday, December 10

Mickey's Christmas Carol (7:00 am)

Freeform

Saturday, December 10

Toy Story (3:45 pm)

Freeform

Saturday, December 10

Toy Story 2 (5:45 pm)

Freeform

Saturday, December 10

Toy Story 3 (7:50 pm)

Freeform

Saturday, December 10

Mary Poppins (8:00 pm)

ABC

Saturday, December 10

Toy Story That Time Forgot (10:20 pm)

Freeform

Sunday, December 11

The Little Drummer Boy (7:00 am)

Freeform

Sunday, December 11

Home Alone: The Holiday Heist (7:30 am)

Freeform

Sunday, December 11

A Dennis the Menace Christmas (9:35 am)

Freeform

Sunday, December 11

Frozen (8:00 pm)

ABC

Sunday, December 11

Perry Como's

Christmas

in Austria (10:00 pm)

getTV

Sunday, December 11

Robot Chicken

Christmas

Specials (11:30 pm)

Adult Swim

Monday, December 12

Greatest

Holiday

Commercials Countdown 2016 (9:00 pm)

CW

Monday, December 12

The Mac Davis Special: The Music of Christmas (9:00 pm)

getTV

Tuesday, December 13

Christmas Cupid (12:00 am)

Freeform

Tuesday, December 13

The Middle – 2016 Christmas Special (8:00 pm)

ABC

Tuesday, December 13

American Housewife – "Krampus Katie" (8:30 pm)

ABC

Tuesday, December 13

Fresh Off the Boat – "Where are the Giggles" (9:00 pm)

ABC

Tuesday, December 13

The Real O'Neals – "The Real Christmas" (9:30 pm)

ABC

Tuesday, December 13

Twice Upon a Christmas (10:00 pm)

getTV

Wednesday, December 14

Arthur Christmas (7:00 pm)

Freeform

Wednesday, December 14

The Top 12 Greatest Christmas Movies of All Time (8:00 pm)

CW

Wednesday, December 14

The Goldbergs – "Han Ukkah Solo" (8:00 pm)

ABC

Wednesday, December 14
Home Alone 2 – Lost in New York (8:00 pm)
AMC

Wednesday, December 14

In the Heat of the Night (8:00 pm)
getTV

Wednesday, December 14

A Pentatonix Christmas Special (8:00 pm)
NBC

Wednesday, December 14

Speechless – "C-H-O-Choir" (8:30 pm)
ABC

Wednesday, December 14

Black-Ish – "Just Christmas, Baby" (9:31 pm)
ABC

Wednesday, December 14

The Danny Kaye Show: Christmas Episode (10:00 pm)
getTV

Wednesday, December 14

Christmas with the King Family (11:00 pm)
getTV

Thursday, December 15

Santa Baby (12:00 am)
Freeform
Thursday, December 15
Four Christmases (8:00 pm)

AMC

Thursday, December 15

iHeartRadio Jingle Ball 2016 (8:00 pm)

CW

Thursday, December 15

The Johnny Cash Christmas

Show

(8:00 pm)

getTV

Thursday, December 15

Disney Prep & Landing (8:00 pm)

ABC

Thursday, December 15

Prep & Landing 2: Naughty Vs. Nice (8:30 pm)

ABC

Thursday, December 15

Whose Line Is It Anyway? (9:30 pm)

CW

Friday, December 16

Jack Frost, 1998 version (9:10 am)

Freeform

Friday, December 16

Santa Baby 2: Christmas Maybe (12:00 am)

Freeform

Friday, December 16
Deck the Halls (8:00 pm)

AMC

Friday, December 16

The 85th Annual Hollywood Christmas Parade (8:00 pm)

CW

Friday, December 16

Dr. Ken – "A Park Family Christmas" (8:31 pm)

ABC

Saturday, December 17

Happy Feet (10:30 am)

Freeform

Saturday, December 17
A Christmas Carol (8:00 pm)

AMC

Saturday, December 17

I Want A Dog For

Christmas

, Charlie Brown! (8:00 pm)

ABC

Sunday, December 18

The Love Boat: The

Christmas

Cruise (3:00 pm)

MeTV

Sunday, December 18

The Sound of Music (7:00 pm)

ABC

Sunday, December 18
Home Alone Double Feature (8:00 pm)
AMC

Sunday, December 18

Miracle in the Wilderness (8:00 pm)
getTV

Sunday, December 18

Perry Como's

Christmas

in the Holy Land (10:00 pm)
getTV

Monday, December 19

The Judy Garland Show (9:00 pm)
getTV

Tuesday, December 20

Just Friends (12:00 am)
Freeform
Tuesday, December 20
Terry Crews Saves Christmas (8:00 pm)
CW
Wednesday, December 21
Holidaze (12:00 am)
Freeform

Wednesday, December 21

Happy Feet Two (11:05 am)
Freeform

Wednesday, December 21

The Lemon Drop Kid (11:00 pm)
getTV

Thursday, December 22

The Mistle-Tones (12:00 am)
Freeform

Thursday, December 22

Holiday Affair (8:00 pm)
TCM

Friday, December 23

A Night at the Movies: Merry Christmas (5:00 am)
TCM

Friday, December 23

A Home For the Holidays (8:00 pm)
CBS
Saturday, December 24
White Christmas (2:30 am)
AMC

Saturday, December 24

Prancer (6:00 am)
AMC

Saturday, December 24

It's a Wonderful Life (8:00 pm)
NBC

Saturday, December 24

Santa Claus: The Movie (8:30 am)
AMC

Saturday, December 24

The Outlaw Josey Wales (8:00 pm)
AMC

Saturday, December 24

The Cowboys (11:00 pm)
AMC
Sunday, December 25
The Sons of Katie Elder (2:00 am)
AMC

Sunday, December 25

Joe Kidd (5:00 am)
AMC

Sunday, December 25

The Doris Day Show (5:00 am)
MeTV

Sunday, December 25

Going My Way (6:00 am)
TCM

Sunday, December 25

Two Mules for Sister Sara (7:00 am)
AMC

Sunday, December 25

All I Want for Christmas (8:30 am)

SundanceTV

Sunday, December 25

Boys Town (8:30 am)

TCM

Sunday, December 25

The Shootist (9:30 am)
AMC

Sunday, December 25

El Dorado (6:00 pm)
AMC

Sunday, December 25

Big Jake (9:00 pm)
AMC

Sunday, December 25

Saved By the Bell (11:00 am)
MeTV

Sunday, December 25

Rio Bravo (11:30 pm)
AMC

Monday, December 26

Christmas in Connecticut (12:15 am)
getTV

Monday, December 26

Happy New Year, Charlie Brown (8:00 pm)
ABC

Monday, December 26

Rudolph's Shiny New Year (9:00 pm)
ABC

Tuesday, December 27

Kennedy Center Honors (9:00 pm)
CBS
Friday, December 30
iHeartRadio

Music

Festival – Night 1 (8:00 pm)
CW
Saturday, December 31
Dick Clark's

New

York's Rockin' Even with Ryan Seacrest 2017 (8:00 pm)
ABC

Saturday, December 31

Pitbull's New Year Revolution, Part I (8:00 pm)
FOX
Monday, January 2
The 128th Rose Parade

Presented

by Honda (11:00 am)
ABC

Monday, January 2

iHeartRadio

Music

Festival – Night 2 (8:00 pm)
CW
*All info on TV shows came directly from denofgeek.com