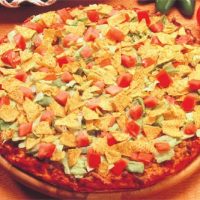 Do you remember Pizza Hut's Taco Pizza? We used to read our books for the "Book It" program and get our little personal pizzas and my parents would get a taco pizza from Pizza Hut to split. It was one of those memories that has no real meaning. It's just a feeling of happiness for no real reason other than you were with your family, having a good time and eating pizza.
Well, I can't just go buy a taco pizza. Finding gluten-free options is not easy and they don't even make this pizza anymore BUT I can easily make one at home. And this weekend I did…TWICE. It was that good!
But is wasn't just the pizza that was good. As soon as I took that first bite sooo many memories of that Pizza Hut in Platteville, WI came rushing back. It's like a Time Machine with a portal in my mouth!
If you'd like to try it, I will post the recipe below but is there a food that brings back memories for you? Maybe this might help…
Copycat Pizza Hut Taco Pizza from the 80's
Ingredients
1 pkg Taco seasoning mix
1 Head lettuce, shredded
1 lb Ground beef (I used ground turkey)
1 Tomatoes, diced
1 Small onions, diced
1-2 cups shredded Monterey Jack cheese
1/2 cup Mozzarella cheese
1 Tbsp bacon grease, lard or butter (bacon grease is the best for flavor but I didn't use it at all)
16 ounces Refried beans
1 Tbsp cumin**
1 tsp salt
1/2 tsp garlic powder
Dorito Taco chips, crushed (must be the taco ones!)
Preparation
1. Prepare pizza dough and press out on a pizza pan.
2. Brown 1 lb of ground beef  (or turkey) with one package of taco seasoning mix. Don't add water. Drain ground beef and set aside to cool.
3. Melt down bacon grease (I skipped), add the refried beans, cumin, salt and garlic powder.Warm and add water as needed to make the beans spreadable like a sauce.
4. Spread the beans on the pizza dough evenly. Top with the ground beef. Sprinkle about 1/3 of the cheese over beef and beans.
5. Bake at 400 degrees for about 15 minutes or until dough is golden and the toppings are hot.
6. Immediately cut the pizza into slices, leaving the slices in the pan.
7. Spread the lettuce over the top, sprinkle with tomatoes, chips, onions,
Amy's Notes: 
I made the pizza and let everyone add their own toppings like you'd do on a regular taco. My kids LOVED THIS PIZZA! I also make all my own pizza dough but I will refrain from posting that recipe because most prefer just buying it. If you try it, let me know what you think!
.