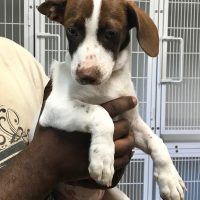 Meet Paige!
Paige is a 12 week old dachshund beagle mix who is sweet and friendly.  She is currently available for adoption.  If you are interested in adopting Paige, call Humane Society of Garland County at 501-623-5012, email us at garlandcountyhumane@gmail.com, or come on out to the kennel for a visit!
Kennel hours are 11-3 Tuesday through Friday and 11-3:30 on Saturday and Sunday.
To see more of adoptable cats and dogs, please visit our website.