Amy Hale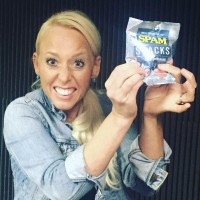 Amy Hale is an actress, singer, director and writer that is proud to call Hot Springs home. She is currently Mrs. Spa City. Amy gives acting and improv classes in Hot Springs, as well. She is also the Marketing Director for Noalmark Broadcasting. She loves spending time with her husband, Tony, and her three beautiful daughters as well as watching QVC.
Catch Amy Monday through Friday on the Kramer & Amy Show from 6 AM to 10 AM. You didn't get enough, though, did you? Well, she's back from 2-7 PM for "Amy in the Afternoons". Connect with her on Facebook, Instagram and Twitter.
Catch her "Odd Wednesdays" segments every other Wednesday on the "Kramer & Amy Show" as well as the "Dinner & a Movie" game show where you can win TWO tickets to Central Ten Cinema in Hot Springs and dinner at Steinhaus Keller!
More from Amy

Kramer and I talked about the Fall pumpkin spice items hitting stores soon this morning on the Kramer and Amy Show.I feel like it's my job to keep a master list of the pumpkin spice things I