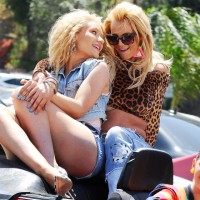 I mentioned on the air today that my boss is making me incorporate Entertainment "News" in my show. I'm doing it because I love my job and am not one to argue. So here are today's top stories as I see them. Links provided for if you actually want additional information.
1. Rhianna was at a club and found a dog
2. Caitlyn Jenner wore a black dress
3. Britney Spears and Iggy Azalea were passive aggressively fighting on Twitter
4. Kendall Jenner's Instagram post got a bunch of likes and beat Kim's likes. Kendall was wearing a wedding dress and had heart hair.
Amy. Out.
1. http://www.etonline.com/news/167030_rihanna_went_to_the_club_and_came_home_with_a_dog/
2. http://www.etonline.com/news/167087_caitlyn_jenner_steps_tight_black_dress_nyc/
3. http://www.ew.com/article/2015/06/30/britney-spears-iggy-azalea-tweet
4. http://www.usmagazine.com/celebrity-news/news/kendall-jenner-beats-kim-kardashian-for-the-most-liked-instagram-photo-2015296