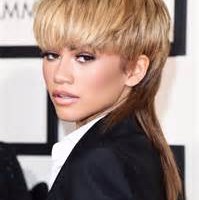 Yes, there were a lot of things happening last night at the Grammys. But do we really have time to talk about Gwen Stafani's music video "costume changes"? (They were just jackets. You only really changed your jacket.) Or how Ciara accidentally wore her nightgown? No. No, we don't. Let just hit the Top Five Things You Need To Google from Last Nights Grammys
1. Hamilton – I've been hearing it EVERYWHERE. I live in Arkansas. No, I have not seen Hamilton. Then I saw the Grammys.
SOMEONE GET ME TO N.Y. I NEED TO SEE HAMILTON. When Dr. Beach, the Director of Theater at Henderson State University says it's " Absolutely the best piece of theatre I've seen in my life" I take it seriously. I was IN AWE!!
See Hamilton's Grammy performance here
2. Hair – SO MUCH HAIR STUFFS. Here is the run down
–  Taylor Swift looking a lot like Karlie Kloss sporting a new bob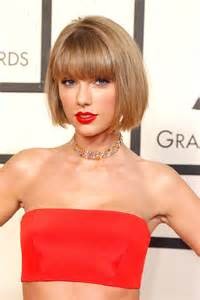 – more bobs.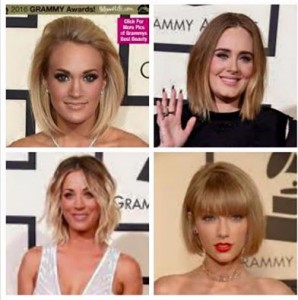 – Justin Bieber had, well, I don't know what you'd call this but it's not a mustache.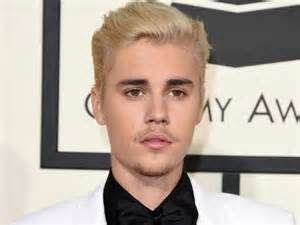 No, Justin. No.
Then there was the Hail Mary of Hair. None other than Zendaya going full-fledge mullet. Hey, I'm from the South. I'm not judging. I'm just reporting.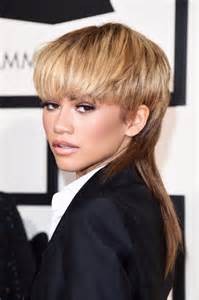 The phrase "channeling her Inner Billy Ray Cyrus" came up a little more than I would have liked on Twitter, but it's not my hair. (thank goodness)
I'm just REALLY hoping this isn't a trend that sticks.
3. Adele's only bad performance in the history of ever – Not much to report here, mainly because her "bad" is just about everyone else on the planets "I did awesome!" Yes, there were sound issues. Yes, she was off, but not by much. Still, this is as close to her being human as we will probably ever see.
4. Lady Gaga Tribute to David Bowie – I was so impressed. I tweeted the following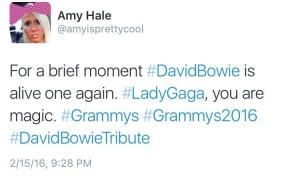 It was supposed to be "once". Once. But you get it. Live tweeting is hard. (No, it's not.)
Regardless, REALLY amazing. Highlights here!
Annnnnnd, the last thing to google from last night's Grammys:
5. Taylor Swift casually and professionally ripping Kanye a new one.

Don't need to say much. This will suffice.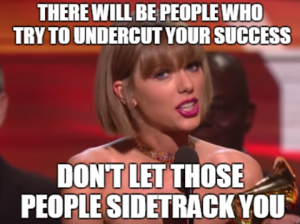 But, if you just want to watch it, here you go…

There you go! That's my take. Until next time!
-Amy