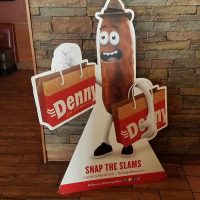 Denny's mascot is not good. It actually looks like crap. Literally. As a matter of fact, I can't figure out why Denny's didn't see the comparison themselves. While it's just now making the news, the hat-donning sausage link actually made his debut in 2014. It is just now popping up all over social media as a "marketing don't". As in, don't remind people of poop while they are digging into their Moons over my Hammy.
But Denny's stands by their idea. When reached for comment, John Dillon, chief marketing officer at Denny's, said, "While this unflattering comparison was never in his plan, he won't let it stop him from enjoying his 15 minutes of fame." He added, "We do not have any plans to change how Sausage looks because … well, he looks exactly how a breakfast sausage should look. And of course, we'd hate to give Sausage a complex because we – and his Grand Slams family – love him just the way he is!"
So there you go, they won't dump the sausage. I wonder if they would at the very least be open to a wardrobe change? Maybe a fedora? Or channelling a little South Park at Christmas?