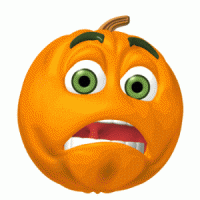 Yes, it's still technically summer but in my heart it's fall, ya'll. My decorations are up and the Hale House is looking good. So imagine my surprise, no SHOCK, when I read there is a PUMPKIN SHORTAGE!
It's been reported by several news outlets, but you'll excuse me if I don't jump on this negative Nancy band wagon immediately. Namely because I think these things tend to be dramatized to boost pumpkin sales, yet we all know we are going to buy pumpkins!
Nevertheless, it is my job to report to you that some places in the US are experiencing 40% fewer pumpkins in their crops than average. That is 40% of the population having to buy plastic pumpkins and just pretend it's the real thing. Big ol' can of nope right there.
They say it has to do with the weather in Iowa being incredibly dry and then in other places, like New York, it was too rainy. Regardless of why it's happening, I saw HUGE boxes of pumpkins at the store yesterday and now that I know the "truth", I am heading out to buy them. I may not buy into this theory, but I'm not going to gamble it, either.
Yes, I know it's "too early" but tell that to my laser lights proudly displayed in my front yard. Halloween is my holiday and nothing will not mess that up!