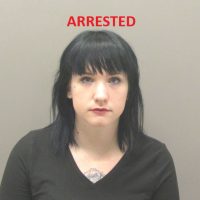 PRESS RELEASE
Wanted Subject Arrested
Autumn Partington, age 23, who was wanted by the Hot Springs Police Department for fraudulent use of a credit card and theft by receiving, was arrested by Cabot Police Department on February 8, 2018.
Partington's fraud and theft charges stem from her stealing credit card information while working as a waitress at a Hot Springs restaurant.
After warrants were issued for Partington's arrest, she was placed on the HSPD Facebook page in early January as part of the HSPD Warrant Wednesday.
It was determined through investigation that Partington had fled the Hot Springs area.  However, on January 8, 2018, it was learned Partington was in the Cabot area.  Partington posted a photograph of herself on her Instagram page with the caption, "i luv my job".  Luckily, Partington was wearing an apron with the business name.