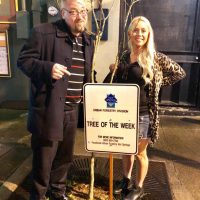 Last night as I ventured on my Valentine's Day date adventure, I noticed something I never had seen before. It was a sign in front of a tree stating that this very tree was the "Tree of the Week". Now, I have met celebrities but never have I EVER met a celebri-TREE! I was running late but still stopped for a photo.
I am now finding out this is a newer service brought to us by the Urban Forestry Division. You can find out about the celebritree on by following  Urban Forestry Facebook. I am not going to lie, I am pretty excited about this.
Let's just say I have a new hobby.