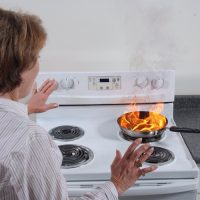 Crazy thing happened yesterday, but I first need to let you know my stove broke two weeks ago. We went to Brown's Furniture in Malvern, picked out a new one and said we'd be back in two weeks to buy it. (We are doing this whole don't use credit card thing)
Fast forward to yesterday. Have I googled stoves recently? No. Have a searched for stoves at all? Nope. But yesterday I am telling my friend Adam that I can't make him the cupcakes I owe him until I get my stove in a week or so. I then explain how my stove was broken and smoke was pouring out of it.
THEN I GOT THIS SPONSORED AD IN MY INSTA FEED!! HOW IS THIS HAPPENING?