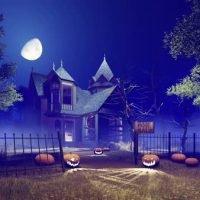 Who is ready for Halloween? It's one of my favorite holidays but I like to warm up all month by going to Haunted Houses alllllll month!! And guess what?
 I found a list of Haunted Houses in Arkansas on KARK's website!
I will add any I hear about that aren't on this list but check this out!!
EDIT: There are no Hot Springs Haunted Houses & Events on that list so here goes:
Magic Screams at Magic Springs: Haunted Houses, live shows, zombie laser tag, PLUS all the fun of Magic Springs. Saturdays and Sundays. Visit Magic Springs website for more info and listen to KLAZ for a chance to WIN tickets!

Boo with a Badge:Boo with a Badge on October 31st from 5:00pm to 8:00pm!  Come join over 10 different Garland County First Responders to hand out candy and other goodies. Game and Fish are even bringing their fish tank! Also, remember to tour  Holly's Haunted Hallway and it is all free!

Glow on the Row in Downtown Hot Springs:  October 31st The annual "Glow On The Row" Trick-or-Treating & Harvest Festival along Bathhouse Row in Downtown Hot Springs, Arkansas. Crawl your way down blocks of our spooky Historic District and collect fistfuls of free candy from your local brick & mortar businesses! Make your way to the "Glow On The Row" Harvest Festival at the Free Parking Garage to enjoy even more treats, games, and live music!

We will be giving away:
18,000 Glow Sticks
3,000lbs of Candy
3,000 free mini cupcakes from
and over 2,000 mini toys

for Trick-or-Treaters of all ages! All for free! ????????‍♀️????Put on your best costume and join along for a night of fun!
(Allllllll goodies MUST be given out by the end of the night! Rain or Shine! You won't want to miss out!)