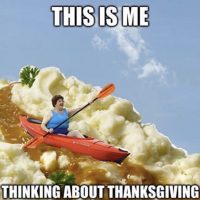 Thanksgiving. It's hands down one of my FAVORITE times of year. Arguably, it centers around food so it's not that hard to imagine it being my favorite. My entire family, Luke included, come to my house for Thanksgiving because Tony works retail and we all know what that means. It can get hectic but after years of mastering the Thanksgiving feast, I have several tried and true tricks that help things seem a little less chaotic.
Wear a dress. Everyone says leggings but a functional dress is both comfortable and good if you eat too much cheesecake…or mashed potatoes…or rolls. I wear an A-line one OR a sweatshirt dress! I LOVE dresses that are giant sweatshirts!! This is the one I wore last year. *I still wear it a lot!

Thanksgiving Coloring Tablecloth: I think we found our Thanksgiving Coloring Tablecloth at Target last year and ALL the kids liked this thing, even the big kids! It's great when you are finishing up and everyone keeps asking "when will you be done". Five minutes. Go color a turkey.
Dips and sides and donuts and cinnamon rolls: You know you're gonna eat. Lunch timing will be off. What I do to stop all the "I'm hungry" every ten minutes is make several dips and finger foods in advance. Start off with cinnamon rolls or donuts in the morning (read easy food) and let everyone snack. It works for us.
Board Games: We love board games. We play a lot of card and board games and after we eat. It's the perfect time to get mad at your family over something stupid like a "Draw 4 Wild Card". Uno is a staple but other games we are really loving right now are Exploding Kittens, You've Got Crabs,and Speak Out. Oh, and Dos. Ones I am getting or planning on getting are Bears vs. Babies, Monopoly: Cheater's Edition (love you, grandma) and Butts in Space.
It's not a long list but it's stuff that really helps me! I am already planning this year's celebration so if you have any ideas, let me have em'!
Amy