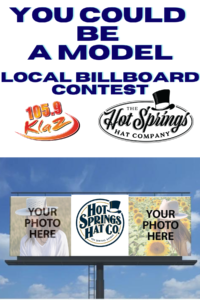 Have you ever wanted to be a model?
Larger than life, even?
Here's your shot!!
If you have serious hattitude, the Hot Springs Hat Company needs YOU! They're looking for models for their billboards and social media: Moms, Dads, Babies, Couples, Grandmas, and Grandpas…ANYONE wearing a hat from the Hot Springs Hat Company.
It's easy! Simply take a photo in your Hot Springs Hat Company Hat. Get creative, have fun, and really feature that great hat!
If you don't have a Hot Springs Hat Company Hat, GO GET ONE! Head downtown and into the shop at 332 Central Ave, right next to the Ohio Club. Let the friendly staff help you find the perfect adornment for your noggin, and then go on a photo shoot!
Email your high-res photo to HSHatContest@gmail.com, along with your Name, Address, Phone number, and Social Media links (if applicable). Pictures will be uploaded here at least once a day, and you'll be able to share to your socials so your friends can come comment on your picture!
You could be a model, just bring your camera, your hat fashion, and your creativity…and show us the stunning results!
---