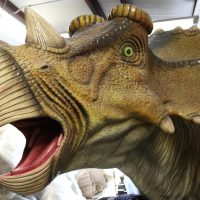 Mid-America Science Museum Receives Major Delivery of Dinos
Hot Springs, AR. (Feb. 8, 2018) – Mid-America Science Museum as of this week received some Jurassic cargo in the form of nearly twenty colossal prehistoric dinosaurs. "We're very excited to finally have them here so we can embark on the exciting process of staging them around the museum grounds," said Niles Ellis, director of exhibition and design at Mid-America Science Museum. Set to open to the public on Memorial Day Weekend, the Oaklawn Foundation DinoTrek will utilize the museum's extensive 21-wooded acre property making use of existing trails and providing guests with a new and exciting pre-historic perspective of the museum's picturesque outdoor landscape.
The majority of the dinosaurs arrived in a large shipping container, but at least two were brought on a flatbed trailer and were spotted by museum visitors on their way to be delivered. "It really will be like a park once the dinosaurs are in place," said Ellis, explaining the need for the perimeter fence. In addition to the added security measures, the museum's surrounding trails have been newly paved providing ease of access to the public.
"We are expecting this to be a very busy summer," said Diane LaFollette, executive director of Mid-America Science Museum. "Everyone enjoys dinosaurs and guests often expect them when they come to visit, so now we will have them here on a permanent basis for the public to come and experience."
The Oaklawn Foundation DinoTrek will offer further educational opportunities for guests and visitors to the Mid-America Science Museum. "We've already planned at least one summer camp in June that will be devoted to dinosaurs and we will also be offering special dinosaur themed birthday parties," said Doug Herbert, director of education at Mid-America Science Museum. Be on the lookout later this month for dinosaurs to be appearing around businesses in Hot Springs in anticipation of the Oaklawn Foundation DinoTrek opening.
For more details about Mid-America Science Museum and the Oaklawn Foundation DinoTrek please call 501-767-3461 or visit www.midamericamuseum.org. ####