Jarrett Jackson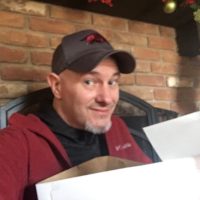 Jarrett Jackson grew up in the small town of Atkins, Arkansas, where he spent most of his childhood riding bicycles, pretending to be Evel Knievel, playing baseball, annoying the neighbors, and recording weird stuff into a cassette recorder. He still does the last two, just with more modern equipment.
As a young man, he tried his hand at a career in the pickle packing industry, then moved on to a job at a burrito making factory. After eating most the profits, he decided maybe plumbing or herding goats would be a better fit. He's still not trustworthy around burritos to this day. Later he was "discovered" waiting tables at a Mexican restaurant.
Weekdays, he can be found raiding the snack bar at the radio station. The rest of the time, he's usually floating around on one of the beautiful Hot Springs area lakes, hanging with his cool kids, or wandering around in the woods lost. He wants you all to know that he loves baby ducks, old pickup trucks, slow-movin' trains and rain. He loves coffee in a cup, little fuzzy pups, bourbon in a glass, and grass. And he loves you, Tom T. Hall and The Razorbacks(Woo Pig Sooie!) too.