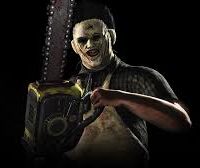 Two of the scariest dudes ever to light up the horror-movie screen have been added to the list of guest celebrities who will join thousands of fans September 21 through 23 at the Third Annual Spa-Con multigenre comics and pop culture convention at the Hot Springs Convention Center.
R.A. Mihailoff, best known for his starring roles as Leatherface in "Leatherface: The Texas Chainsaw Massacre III," "Hatchet II," and John Schneider's "Smothered," will greet fans Saturday, September 22, and Sunday, September 23.
Also appearing will be Michael Berryman, scary star of such memorable flicks as "One Flew Over the Cuckoo's Nest," "The Hills Have Eyes"and "X Files."
Their appearances are part of a cooperative arrangement with the Hot Springs Horror Film Festival, which will be taking place in the city simultaneously with Spa-Con 3, according to Bill Solleder, marketing director of Visit Hot Springs and one of the original organizers of Spa-Con.
"We're really fortunate to be able to join with the Horror Film Festival to add Mihailoff and Berryman to our already impressive list of guests such as Pam Grier and Butch Patrick," Solleder said. "And these are only four of the really large roster of guests that we announced previously.
While Mihailoff's resume' lists numerous mainstream credits in movies, television, commercials and theater, as a lifelong fan of fright, he is most proud of his genre work. He was made an honorary inductee into the Academy of Science Fiction, Fantasy, and Horror Films. Mihailoff's career in the cinema fantastique began with a role in the original PBS made-for-tv sci-fi movie "The Lathe of Heaven." Since then he has portrayed a diverse range of monsters, mutants, and madmen — everything from a villainous T-Rex to a futuristic cyborg.
He will be available at 2 p.m. September 22 and 2 p.m. September 23 for autograph signing in the Convention Center's Expo Hall.
Berryman's film credits also include "Weird Science," "Star Trek," "The Devil's Rejects," "Lords of Salem" and dozens more. He will also be signing autographs at 2 p.m. September 22 and 23 in Expo Hall.
Activities for the Third Annual Spa-Con also will include laser tag, escape room, a virtual reality lab and the Starship Bridge simulator, Solleder said.
"In addition," he said, "we'll have workshops that include Make Your Own Dice Bag, Engineer a Light Saber, Helmet Fabrication and others.
"Add to those panels with Pam Grier, Sean Maher and Butch Patrick (Eddie Munster)"
YouTube sensation, comedic rapper Froggy Fresh, will provide the entertainment for the opening ceremony and concert for Spa-Con Friday, September 21.
The show will begin at 7 p.m. in Horner Hall of the Hot Springs Convention Center.
"Munsters" star Patrick and Grier, who became a superstar in what were known as "Blaxploitation" movies in the 1970s and 1980s, will be joined by other celebrities, including Sean Maher, star of the hit movie "Serenity" and the TV series "Arrow," Arvell Jones, a renowned illustrated for Marvel Comics, and Nightingale Vixen, the well-known cosplay performer, and Veronica Taylor, a voice actress who is the voice of Ash Ketchum from Pokemon.
Other Spa-Con guests announced previously include: Nipah Dubs, an award-winning cosplayer with over seven years of experience styling wigs, sewing, making props and armor, and promoting the art of cosplay; Chad Maupin, a comics and visual artist known for his work developing the brands Fayettechill and Houndstooth Clothing Co.; David Lasky, a comics and visual artist who will be returning to Spa-Con in September;  Bill Tsutsui, president and professor of history at Hendrix College, who will present a special panel at Spa-Con 2018;  Ross Watson, an award-winning game designer and author; Yale Stewart, a cartoonist from St. Louis, best known for creating, writing, and illustrating the award-winning webcomic, JL8.
Spa-Con 3 is presented by Visit Hot Springs and the Garland County Library.
Weekend passes and VIP passes for Spa-Con 3 are on sale now at www.spa-con.org.
For more information call Bill Solleder at 501-321-2027.