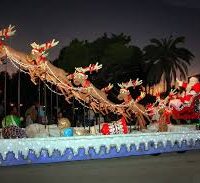 Oaklawn Rotary Christmas Parade street closing notice            
HOT SPRINGS — Central Avenue, beginning at the junction of Whittington and Park avenues, will be closed to through traffic on Monday, December 3 for the annual Oaklawn Rotary Christmas Parade. Street closing will begin at Whittington Avenue at 5:45 p.m.  Central Avenue will close at 6:10 p.m. The parade, which includes 80 entries, will begin at 6:30 p.m.  The rain date is Tuesday, December 4.
The parade will proceed south on Central Avenue, turning east at Orange Street and disbanding at the Transportation Plaza on Broadway Street.  Motorists are asked to remove all parked cars from the parade route no later than 5:30 p.m. on parade day.  To ensure safety and allow for the space needed by marching groups, all parade attendees are asked to stand on the sidewalk and not on the street.  Street vendors and throwing of candy are strictly prohibited.
This year's parade, with the theme "Christmas Vacation," features Hot Springs National Park Superintendent Laura Miller as grand marshal. Parade sponsors include Sanders Supply; Jordan Woosley Crone & Keaton, Ltd.; Steamatic; Relyance Bank; and Seiz Sign Company, with support from the City of Hot Springs.