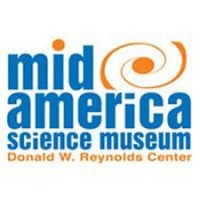 Mid-America Science Museum Opens New Enrollment Opportunity for Science After School Program
Hot Springs, AR. (Dec. 13, 2018) – Mid-America Science Museum's  new after school care program entitled Science After School, has now expanded to include students in grades Kindergarten through 8th grade in the Hot Springs School District and also the Lake Hamilton School District.
Beginning on January 7, 2019 this new after school care program will be offered Monday through Friday from 3:30 pm to 6:00 pm until the end of the school year.  At this time, Science After School enrollment is available for a maximum of 111 students living in either the Hot Springs School or Lake Hamilton School Districts who are in Kindergarten through 8th grade.
At the completion of the pilot, adjustments will be made to the program based on lessons learned and then Science After School will be made available to all students in the Hot Springs area for the 2019/2020 academic year.  The first of its kind in the state of Arkansas, Science After School is licensed by the Arkansas Department of Human Services. The new Science After School program will also lead to the development of a future new state of the art 3,000 square foot outdoor playground that will be located on the museum's 21-wooded acres.
"This isn't going to be just kids sitting in a classroom, and it's going to be more than just a place to play, children will have access to the entire museum as well as individualized programming that will instill principles of science learning," said Jeremy Mackey, director of education and interim director of Science After School at Mid-America Science Museum.
Parents may download Science After School applications at midamericamuseum.org.  There is a $30 application fee for registration.  There are currently no late registration fees applied for the first year of this program, and enrollment will be ongoing until all spaces are filled. Science After School is $10 per day, or $50 per week.
For more information about Science After School and to register please visit midamericamuseum.org call 501-767-3461 or email us at info@midamericamuseum.org and please be sure to like us on Facebook.