April 3, 2020
•  There are now 704 people in Arkansas who have tested positive, up 61 from yesterday's briefing.
•  There are now 71 people hospitalized, 26 of whom are on ventilators.
•  The number of positive cases here in Garland County is now 37.
•  The Governor says almost 10,000 Arkansans' have been tested with a 7.3% positive rate.
•  The procurement department at UAMS has made a purchase of 30 days of PPE equipment which will arrive later this month. Dr. Cam Patterson from UAMS says one of the biggest hold-ups on some purchases, is arranging shipment and clearing foreign customs.
•  While there are ventilators in the purchase pipeline, Governor Hutchinson says he doesn't want to be overly optimistic, citing concerns that Arkansas could be outbid at the last minute.
•  The Governor took a question about whether a City/County had the power to order that Juveniles stay home during certain hours. The Governor indicated that as long as the order did not interfere with commerce, he believed a city could do that. He added he'd be meeting with cities and counties on Monday to talk about coordination of such orders.
•  The Governor commended L'Oréal for agreeing to produce 550 gallons a week of hand sanitizer for use by hospitals. He pointed out the company has never produced that product, but agreed to do it, and is not charging the state.
•  From Dr. Smith – he points out that while 60% of the positive cases are women, 62% of the ICU cases are men. He suggested there has never been a better time for people to get healthier, pointing out under lying conditions such as smoking, diabetes and others make contracting the virus even more serious.
---
April 2, 2020
•  There are now 643 cases of Covid-19 in Arkansas (up 59 from yesterday), and 2 more people have died, taking the death toll to 12.
• Of the 643 cases, 91 are health care workers, and 51 are nursing home residents.


• Governor Asa Hutchinson says he is NOT prepared to issue a stay at home order for Arkansas at this time. In his daily briefing, the Governor showed the list of targeted actions he's taken so far. He and public health officials believe those have been effective so far.

   The Governor displayed a chart showing that while the number of cases continue to grow, the graph shows the growth rate remains lower than what health care experts had projected.
And, he pointed out that in states with "stay at home" orders, there are several exemptions. It is projected that in Arkansas, were he to issue such an order, over 700,000 people would still go to work due to being classified as working in "essential businesses."
His bottom line was this: At this point, our rate of growth has flattened out, due in large part to the many targeted actions our state HAS taken. If you look at where we are compared to other states, our recent rate of growth is at least as good as those states that have shelter-in-place orders. When we need more, we will do more.
---
April 1, 2020

• Arkansas has had a total of 584 positive test results (up 61 from yesterday).
• Death toll up 2 today to a total of 10 in Arkansas. Both of the newly reported deaths were over the age of 65. One of them had an underlying condition according to Dr. Nate Smith.
• There are 31 positive cases in Garland County.
• The Governor reported testing in Arkansas has increased, with 903 tests conducted yesterday. To put that in perspective, that brings to 7,124 the total number of tests in Arkansas since the virus was first reported.
• The Governor announced a pilot project with Walmart and Quest Labs to start conducting drive through testing in NW Arkansas. This will primarily be for health care workers and first responders, with hopes it can be rolled out elsewhere based on the how it works.
• The Governor reported he's asked the US Interior Department to close the National Park at the Buffalo River. That comes in the wake of people failing to social distance at the location. He pointed out that 60% of the license plates were from out of state. In addition, there will be new restrictions at Arkansas State Parks.
• For the self employed and "gig workers," Commerce Secretary Mike Preston reported the Federal Government has not yet provided written guidance on how the pandemic benefits will work for those people. As a result, those kinds of unemployment applications cannot be processed yet. He suggested not applying until the Fed provide the State with the needed information.
---
March 31, 2020
• As of today, Arkansas has had a total of 523 positive test results.
· Age Breakdown: 17 are children, 348 are age 18-64, 158 are age 65 or older
· 79 are healthcare workers. Many have asked if this is because workers don't have appropriate PPE. It may have been. We still have reports of facilities that don't have access to PPE. Also, the highest risk is when a patient with few or no symptoms of COVID comes in and the care providers don't immediately suspect COVID-19. In these instances, people are exposed before they think to put on the PPE. Once people know and are using the PPE, then the number of new healthcare workers infected, drops significantly. This means that we have to have a higher index of suspicion. But of course, first and foremost, we need more PPE which is being distributed now.
· Status breakdown: 64 are currently hospitalized (up 2 from yesterday). 23 are currently on a ventilator (up 2 from yesterday). We have one new death (an individual over 65 in Central Arkansas). 35 have recovered (up 6 from yesterday).
• Are we staying under our projected spread? Many of you may recall that last week's projections estimated we would have 3500 positive tests by April 10. Under that projection, we were projected to be at 1000 positives by today, and we have about half that, so we are having some success in keeping the curve lower than we projected it would be.
Of course, we're not testing as much as we'd like to be, but these projections were actually made with an even lower test capacity in mind. Furthermore, as soon as we have a little more data, we will do projection lines with *hospitalizations* (rather than just positive tests), which will give us an even more precise picture. In other words, we know we're not capturing all our positive cases with our testing numbers. But, since we know our numbers *are* capturing almost everyone who is *hospitalized* with COVID, once our projections are based on those, we will know even better how we are doing in terms of our projections v. reality.
Let's follow the guidelines, and continue to beat the projections. This WILL save lives and get us out of this crisis much quicker.
•  State Parks: There are congregations of larger numbers of people along the Buffalo River and many of our state parks, largely due to out-of-state visitors. Social distancing guidelines are not being followed at these sites, and many of these visitors are coming from hotspots. So, the Governor is looking at ways to curtail recreational travelers from out of state into Arkansas. This may involve the closing of some state parks.
• Testing: Lab testing continues to be challenging because of the national shortage of reagents, so we are well below where we initially expected to be with tests at this point. Going forward, we now have personnel trained at ADH to continue processing tests 24/7.
• Hospital capacity: We are in the process of building surge capacity for hospitalized patients. National Guard planners are working to come up with how we can increase beds beyond what we have now, if we need those. The Governor has just authorized 40 additional National Guard Air and Army personnel to assist in that effort.
• Guidelines for after you have been exposed: Many of our essential workers may need to return to work after a positive test or a known exposure to COVID. Here's what you need to know:
· If you have tested positive but have not been sick enough to go into the hospital, once you are 7 days past the onset of your illness, and it has been at least 3 days since you've had a fever, then you are safe to return to work. In some situations (like healthcare workers taking care of high-risk patients), you may need to stay away from work longer.
· If you've been exposed to someone who is positive but you have not had any symptoms, you need to wait 14 days, because that is the period of time between when someone gets exposed and when they first start to show symptoms.
• Bridge Loans for small businesses: We've had 275 applications for the bridge loan programs. Most of those are in the smaller loan category, which are direct AEDC loans, as opposed to going through the banks. We expect to have all $300 million of those loans out by next week, due to the demand.
•  Suspension of in-person notarizations
The Governor has signed an Executive Order which suspends notary action in person. It allows notarizations to be done through audio and video means. This is limited to lawyers, notaries for title companies, and those supervised by them or by banks. This will allow people who need a will to create one, even if they are in isolation or otherwise wishing to avoid person-to-person contact.
*Thank you to Congresswoman Nicole Clowney for daily summarizing the Governor's briefing, and offering insight into Arkansas' current situation.
---
•
As of today, Arkansas has had a total of 473 positive test results.
Age Breakdown:
17 children, 307 adults ages 18-64, 149 adults age 65 or olderUnderlying conditions breakdown:
6 pregnant women, 37 who have diabetes, 36 who have heart disease, 22 chronic lung disease, 10 chronic kidney diseases, 12 with immune-compromising conditions.72 are related to domestic travel. 73 are healthcare workers.Status breakdown:
62 are hospitalized (up 19 from yesterday). 21 are on ventilators (up 5 from yesterday). There has been 1 additional death (over the age of 65 and nursing-home related), which brings the total to 7. Of the 473 total cases, 29 are now recovered.
•
Increased urgency of social distancing
: The ONLY responsible way to engage in responsible outdoor activities is if you can maintain a 6 ft. distance. We are seeing far too much outdoor activity that is breaking these guidelines and creating incredible risk for every single one of us. Dr. Smith reminds us that it is good to be out in the fresh air and sun. But do NOT do this if you cannot maintain the 6 ft. distance. Do not play football. Do not play basketball. Do not run side by side with 3 friends on a trail.
• The order closing casinos was to expire tomorrow; the Governor has stated "that will be extended." He did not say for what period of time.
• In regards to the level & amount of testing, Governor Hutchinson said Arkansas still needs more testing "re-agents," so some tests are being processed by hand, which slows the process.
• After a call with other Governors and the President this morning, the Governor said he expects Arkansas to receive $1.25 billion dollars in federal monies. He explained that money is to be spent on coronavirus-related relief. The Governor says he will form a 15 member task force to recommend how the money will be best spent.
---
March 26, 2020
• Cases: As of today, Arkansas has had a total of 335 positive test results.
· 14 are children
· 213 are adults age 19-64
· 108 are adults age 65 or older
· We have 41 currently hospitalized. 13 are currently on ventilators. We have had one additional death, bringing it to a total of 3, all within Central Arkansas. We have 13 who are recovered.
· Dr. Nate Smith says that number seems higher because of a change in reporting from the hospitals.
• One of the more promising approaches to treating critically ill patients is giving them plasma from those who have recovered. So ADH is in the process of asking those who have recovered to volunteer to donate their plasma so it may help those who will become critically ill with COVID-19 in the future.
• The ADH directive prohibiting indoor social gatherings of 10 or more will be issued later this afternoon.
• In addition, the Governor and his team have found ways to tap additional federal dollars and waivers to provide direct financial grants to health care providers. That will include grants of $250 per week to $500 per week to nurses working with Covid patients; additional money for health care training, rural hospitals and nursing home facilities.
• Dr. Cam Patterson from UAMS says the team has arranged for deliveries of PPE gear to start as soon as Saturday.
· 3 million N95 masks
· 4 million surgical masks
· 4 million disposable gowns
· 2.1 million face shields
---
March 25, 2020
• Cases: 280 positive tests in Arkansas
· 13 children · 173 adults age 19-64 · 94 adults age 65 or older
· AR currently has 12 patients hospitalized. 4 are on ventilators. 41 are in nursing homes. 11 are now considered recovered.
•  Testing: In addition to 280 positive tests, our state has seen 1,438 negative tests. Due to this increased testing, we are starting to have a more accurate picture about where we are.
• Secretary Smith from the Dept. of Health took a moment to address the critical importance of mental health and social cohesion during this time. He encouraged that we reach out to those who we know are going through this alone, or are feeling isolated as they're trying to protect themselves and others.
• ???? New Social Distancing Directive ???? : In order for us to be successful in AR in slowing the upward trend line, the public needs to abide by the guidance of the Department of Health. One such guideline is that there should be, in indoor social gatherings, 10 or fewer. Most are abiding by this, but not all. The exceptions are endangering us all, so ADH IS IN THE PROCESS OF MOVING THIS GUIDELINE INTO A DIRECTIVE.
What's the difference between a guideline and a directive? A directive carries the power of law, so will give law enforcement the ability to disperse groups, should they see them. The official directive will come down from ADH in the next 24 hours or so, with all the details.
• Unemployment: There were over 9000 unemployment claims filed last week, 8000 so far this week, 700 just this morning. This volume of claims is unprecedented in AR history and they are processing them just as quickly as they can. The wait time on the telephone line can be as long as 25 minutes, but they're working on upgrades daily. 1-844-908-2178
• Veterans: Secretary Nate Todd from the Department of Veterans Affairs had a message for veterans who are concerned about their health. The medical centers that support veterans have access to screen veterans on the phone or online. There are also testing capabilities at the VA, should you need a test.
---
March 24, 2020
"We are still only seeing the calm before the storm." – Gov. Hutchinson
• Cases: As of today, Arkansas has had a total of 218 positive test results. Sadly, we have our first COVID-19 deaths, after 2 people passed away this morning (both in Central Arkansas, one person in their 50s, the other one older than 80.)
• There is solid evidence that smoking is a serious risk factor for COVID-19 deaths. If you are a smoker, please consider this emerging evidence carefully.
• PPE: Today, AR received 24 pallets of PPE from the national strategic stockpile. This includes 27,800 N95 masks.
Moreover, our state's procurement team has ordered 1,000,000 units (combination of masks, aprons, gloves, etc…) that are scheduled to arrive this morning. This will cover us for the next 60 days at our current usage rate (which will, of course, increase over the coming weeks). Fortunately, we have more time to plan than other states have had, so we have time to build our state's stockpile on beds and ventilators that we will surely need in the future.
• Contact Trails: We do not trace contact trails in Arkansas, because we should not be lulled into a false sense of security. We need to consider that any public space is a place where people can become infected. We have to be careful not to make ANY nonessential trips outside of our homes.
• Chloroquine: One more word on the dangerous demand for this drug. Dr. Smith noted that even a single adult tablet is enough to cause a fatal dose in children aged 4 and under. Do not use this medication to protect yourself from COVID-19. The costs aren't worth it.
• A personal note from Congresswoman Nicole Clowney (the above info came from her daily update): "Finally, I want to close this recap with a reminder to all Arkansans out there, particularly the young and healthy. I know that it feels lonely to sit at home all day. But this is more serious a public health crisis than anything we have seen in our lifetimes. Serious times call for serious sacrifice. We have to sacrifice all the things that are dearest to us (yes, even time with one another) to help others who are in more danger, or who are not able to make the same sacrifices for whatever reason.
"Make no mistake: This is hard. But it's not optional. It is perfectly understandable to feel frustrated and bored and sad about this new (and temporary) normal. But please remember that all those sacrifices that you're making? They are an EXTREME act of giving. And so, in addition to all those other feelings, please add pride. Because if you are following these most important social distancing guidelines, you should feel so proud that you are helping your community and literally saving lives."
---
March 23,2020
• Cases: As of today, Arkansas has a total of 174 positive cases (+9 from yesterday). Testing has focused on the nursing homes that have identified cases. There has only been one additional nursing home positive since yesterday.
• Additional shutdowns: In an attempt to stop the community spread, ADH is sending out a directive for barber and beauty shops, nail salons, massage therapists, and tattoo studios to temporarily cease operation.
• Hydroxychloroquine: Because of President Trump's briefing the other day, a lot of Arkansans are trying to access Hydroxychloroquine. BE CAREFUL. Dr. Smith, Secretary of the Arkansas Department of Health warns that there is little evidence that shows its effectiveness, and there are significant side effects and drug interactions that most physicians are not very familiar with. These drugs are FDA approved for other indications but NOT treatment of COVID-19. There is potential to cause serious harm by using these medications, which we have no evidence to support using.
• Tax Deadline: The Governor says the Arkansas deadline for INDIVIDUAL income tax payers will be extended until July 15th, to mirror the Federal Income tax revised deadline. Corporations and their estimated tax payments are still due at the original deadline.
• Don't flush that!: The Hot Springs Utilities Dept has issued a warning to residents DO NOT FLUSH disinfecting wipes, paper towels, tissues, baby wipes, and many other things. they can cause massive blockages in the sewer system, can clog the pumps, and even cause them to burn out. Read more HERE
• Hot Springs City Manager Bill Burrough says all rumors of a city shutdown are untrue. He added there have been zero discussions to that effect. He assures the residents that he and County Judge Darryl Mahoney are in close contact, and he encourages residents to go to cityhs.net/covid-19 for information.
---
March 22, 2020
• Arkansas Health Dept reports 165 people have now tested positive for the coronavirus in Arkansas.
• In Garland County, the number of positive cases has gone up from 6 to 9.
---
• Update: We now have 118 positive cases in Arkansas (up 22 from yesterday)
⋅ Age breakdown: 9 children, 32 are age 65 or older, 77 are ages 19-64
⋅ Status breakdown: 13 out of the 118 are hospitalized. 7 are in the ICU. 4 have been on a ventilator at some point
• Projections: Arkansas is likely to reach the peak in 6-8 weeks. At the peak, we're likely to see around 1,000 patients hospitalized. Arkansas's healthcare system *is* equipped to handle this number if it gets this bad, but it will create a real strain. So, our goal remains to continue to flatten the peak and to reduce the spread.
• Testing: Starting tomorrow UAMS will be doing 240 COVID-19 tests statewide per day. Next week, they will add an additional 500 per day for the state. Further, these tests will have a much more rapid turnaround time than currently exists.
• Taxes: The Governor said he is not prepared yet to say whether there will be a postponement of the state income tax deadline. He reminded us that Arkansas' fiscal year is different than the federal government; and that unlike the federal government, our state constitution requires a balanced budget.The State wants to provide taxpayers relief, and is working on how to do that within the bounds of those details.
• Unemployment: The online portal for applying for unemployment is still glitching, because it's tied to a national service that is doing the same. In the meantime, you can call your local office, or the state's Department of Workforce Services at 1-855-225-4440 (weekdays only).
• The Governor said that he expects folks to, as far as they're able, continue paying their rents and mortgages. He also called for "compassion" from those relying on those rent or mortgage payments.
---
March 20, 2020 – 3pm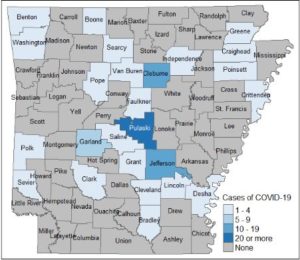 There are now 96 people who have tested positive for the coronavirus in Arkansas. We were at 62 yesterday, so with increased testing, the jump to 96 is the biggest single day jump of positive results to date.
As you can see on the map (left), the number of cases in Garland County has also grown, to now somewhere between 5-9 cases as of the update today.
It should be noted that while we have 96 positives, there have been a total of 351 who had negative test results.
---
March 20, 2020 – 9am
• Garland County and the city of Hot Springs now have a COVID-19 call center open, 7 days a week from 8 am till 5 pm.  The call center is designed to assess individuals from the area over the phone.  After the assessment then operators will make recommendations based on the caller's responses. The number is 501-760-4307.
• There are now 5 drive through clinics operating in Hot Springs and Garland County, to further evaluate those experiencing symptoms. Currently there are no COVID-19 tests or swabs available at the evaluation centers.  Officials say when the equipment arrives they will let the public know.  You are asked to call the Hotline for a telephone assessment BEFORE going to one of these screening sites.
⋅ Convenient Care Clinic – 100 McGowan Court next to CHI/St Vincent (M-F 7am-8pm. Sat/Sun 8am-8pm)
⋅ Convenient Care Clinic – HSV, 4419 Highway 7 North  (M-F 730am-6pm. Sat 8am-3pm. No Sunday hours)
⋅ Lakeside Family Medicine – 124 Hollywood, near National Park Hospital (M-F 830am-5pm. No weekend hours)
⋅ First Care walk in – On Adcock Road just off Airport Rd (M-F 8:30am-5pm. Sat 9a-1p. No Sunday hours)
⋅ Fountain Lake Clinic – 4517 Park Ave (M-F 830a-5p. Sat/Sun 9a-1p)
This information is subject to change and you should call the Hotline number above for updates.
• Arkansas Governor Asa Hutchinson announces that he has made a formal request for a disaster declaration for small businesses.  This will open up loans up to 2 million.  He is extending child care vouchers across the state, and has directed the Dept of Commerce to waive current work search requirements for 30 days.  That will allow the unemployed to receive benefits without seeking other employment.
• The U.S. Army Corps of Engineers announce that all visitor centers and campgrounds in the Vicksburg District are closing.   The closures include all campgrounds on Lake Ouachita and Lake DeGray. All campers have been asked to be off the premises by Sunday afternoon.
• SCAM ALERT from the Arkansas Division of Emergency Management.  They are warning citizens that there are people posing as employees of the CDC , and are going door to door offering COVID-19 testing!  The scammers are asking for personal information and or money. The ADEM says no one will come to your home for testing. Do not give out personal information or money.
• Arkansas Governor Asa Hutchinson announces that dining-in at all Arkansas restaurants is now prohibited. Take out or drive through or delivery are the only options.
• The Governor also announced that all Arkansas K-12 schools are ordered to remain closed an additional 3 weeks.  They are now scheduled to reopen on April 20th.  The Department of Education is working on plans regarding testing.
---
March 19, 2020 – 3pm
Based on the Governor's press briefing today
• The positive cases in Arkansas now stand at 62. Of the 62 cases, six are 18 or under, 41 are 19-64 and 15 are 65+.
• K-12 schools will remain closed for an additional three weeks, now scheduled to re-open April 20. The Department of Education is still working on plans regarding testing.
• All restaurants are now ordered to stop dine-in services and provide only take out, drive through, or delivery.
• The Arkansas Department of Health map still shows Garland County with 1-4 cases. (Two cases were reported earlier this week. We don't know if it remains are two or has gone to four)
---
March 19, 2020 – 9am
• The US and Canada agree to temporarily close their borders to nonessential travel. However, imports and exports will continue between the countries.
• President Trump says he will sign a "Defense production Act" in case it is needed to bolster resources for an expected surge in Coronavirus cases. He also said the Dept of Housing and Urban Development is providing immediate relief to renters and homeowners by suspending all foreclosures and evictions until the end of April.
• Governor Asa Hutchinson reported that within just 7 hours, 4 more people have tested positive for the Coronavirus in Arkansas. The AR Dept of Health confirms that brings the case number to 37 within our state. The Gov said 3 additional cases are now reporting Covid-19. They are Washington, Faulkner, and Bradley counties.
The Governor added in his address that the state is allocating 12 million dollars to help businesses amid the crisis.
• The Garland County Election Commission has announced that ALL voting for upcoming runoff elections, will be limited to the election building on Ouachita Avenue. Officials are encouraging absentee voting. Deadline is March 30th.
• Hot Springs Board of Directors adopt an ordinance endorsing the Declaration of a State of Emergency. This gives City Manager Bill Burrough the ability to suspend local ordinances or regulations that interfere with disaster response, for up to 30 days.
• The Hot Springs Police Dept is temporarily closing its lobby to the public. Those needing to speak to an officer can press a call button in the foyer. Accident reports can be called in, or forms will be available in the foyer.