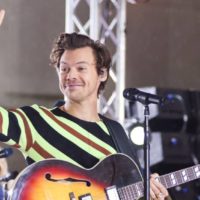 Harry Styles' "As It Was" is in the midst of its fifth separate run on top of the Hot 100, and has now reached 14 nonconsecutive weeks at #1, according to Billboard.
"As It Was" is now tied for the fourth-longest run at #1 in the 63-year history of the chart, tying with these smash hits: Whitney Houston's "I Will Always Love You," Boyz II Men's "I'll Make Love To You," Los Del Rio's "Macarena (Bayside Boys Mix)," Elton John's "Candle in the Wind 1997" / "Something About the Way You Look Tonight," Mariah Carey's "We Belong Together," the Black Eyed Peas' "I Gotta Feeling," and Mark Ronson and Bruno Mars' "Uptown Funk!"
"As It Was" also ties the Whitney Houston, Elton John, and Mariah Carey tracks as the longest running #1 hit credited to a solo artist. The three songs with longer tenures at #1 were all collabs: Mariah Carey and Boyz II Men's "One Sweet Day" (16 weeks); Luis Fonsi, Daddy Yankee, and Justin Bieber's "Despacito" (16 weeks), and Lil Nas X and Billy Cyrus' "Old Town Road" (19 weeks).
Editorial credit: Debby Wong / Shutterstock.com