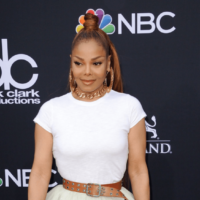 Janet Jackson will detail her upcoming 'Together Again' tour in the new documentary, 'Janet Jackson: Family First'. 
Lifetime and A&E announced that the networks have greenlit a continuation of the story of the superstar's life and career, which serves as the follow-up to last year's documentary 'Janet Jackson.' The new documentary will also reveal Janet's efforts to reunite the family band with her brother Randy for the first time in 40 years. According to the networks, "Janet Jackson: Family First" will "chronicle the legendary singer, songwriter, producer, author, actor, philanthropist and global icon as she embarks on her 2023 "Together Again" tour, and her collaboration with brother Randy Jackson to reunite the family band after 40 years since their last performance." Janet's first tour in four years was announced back in December. The 33-date run will kick off April 14 in Hollywood, Florida and end at Seattle's Climate Pledge Arena on June 21. The tour will celebrate her 50-year career and focus on 1997's 'The Velvet Rope' and 1993's 'Janet' alongside her greatest hits.
Said Janet in a statement: "I was touched by the love and support from the wonderful fans who enjoyed the documentary last year. I am excited to continue to share my story, and welcome fans into my life and the 'Together Again' tour. Thank you for your never-ending support, and I hope you enjoy the next chapter. Randy Jackson added: "In this next chapter in the documentary, Janet and I are thrilled to welcome viewers on the road with us as we embark on the 'Together Again' tour, celebrating the milestone of 50 years of Janet's career with fans across the country. We look forward to the continued partnership with Lifetime and A&E, and to sharing our family with viewers."
'Janet Jackson: Family First' is currently filming. No release date has been confirmed as of press time, but it will simulcast on Lifetime and A&E.
Editorial credit: Tinseltown / Shutterstock.com